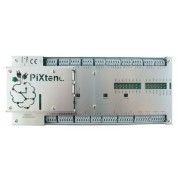 Kontron V2 -L- ePLC® PRO Basic Image
Contacteer ons voor bestelling
PiXtend is een controller gebaseerd op de Raspberry Pi. Dankzij het brede scala aan digitale en analoge in- en uitgangen kunt u vrijwel elke sensor of actuator uit de industrie en fabrikant aansluiten.
Andere apparaten, controllers en computersystemen zijn eenvoudig aan te sluiten via standaard seriële interfaces (RS232, RS485, CAN, Ethernet en WiFi). Al deze robuuste interfaces voldoen aan de SPS-norm (IEC 61131-2).
MET CODESYS V3 en PiXtend® kunt u programmeren volgens IEC 61131-3. Een ingebouwde CODESYS webvisualisatietool is beschikbaar om uw bedieningselementen, diagrammen en grafieken op uw smartphone, tablet of pc weer te geven.