ELECTREX

Since 1993 Electrex designs, develops, manufactures and markets, Made in Italy, instruments and software for energy measurement, management and control.
The Electrex solutions are used in the energy efficiency and Energy Automation applications, for the industrial, commercial, public, civil, and renewable energy sectors allowing a rapid return on investment.
Electrex, one of the first companies to operate in these sectors, has acquired over the years a considerable experience and competence that few other companies can claim to have. With over 40% of the staff dedicated to R & D, we demonstrate our strong commitment to innovation and continuous improvement in order to anticipate the needs of our customers.
We follow our products from design to after sale service and support, being a flexible and dynamic company. That is why Electrex continues to be chosen more and more from both local and international partners.
Strong points of ELECTREX
POWEREX Europe is in staat om in samenwerking met zijn klanten specifieke producten voor te stellen en te ontwikkelen om tegemoet te komen aan bijzondere behoeften, zoals:
♦ spoorweg- / militaire / luchtvaart- / industriële toepassingen.
♦ Klantspecifieke identificatie (markering)
♦ Mechanisch: niet-standaard afmetingen, specifieke behuizingen, aangepaste draden en klemmen
♦ Robuustheid
♦ Verminderde massa
♦ Aanvullende elektrische tests (niet-standaard)
♦ Aansluiting (draden, vlechten, draden...)
♦ Koppelingen voor serie- en/of parallelschakeling
♦ PV van metingen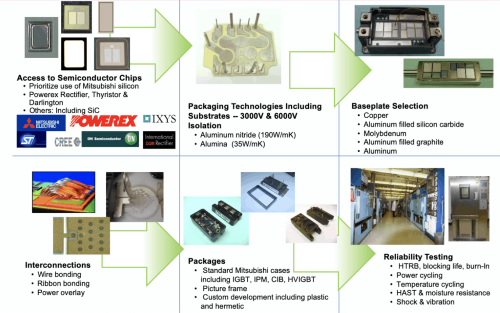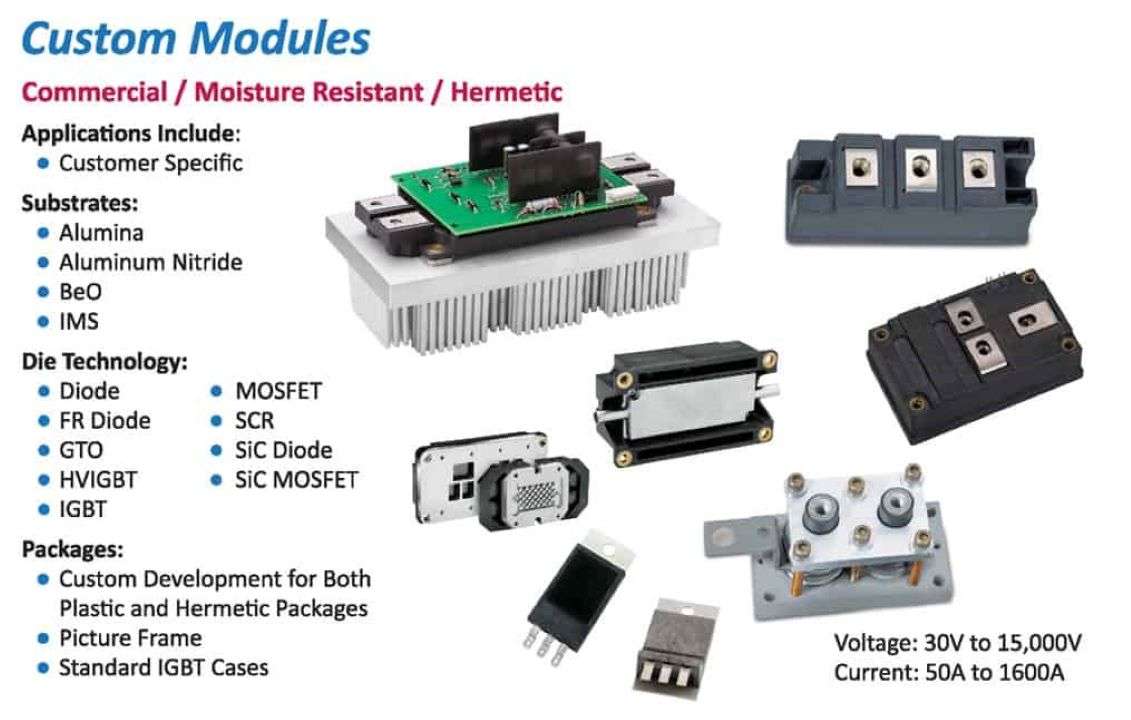 Powerex ondersteunt vele markten, waaronder:
♦ Militaire vermogenselektronica toepassingen
♦ AC, DC en servoaandrijvingen (laag- en middenspanning)
♦ Vliegtuigen (elektrohydrostatische aandrijvingen, stroomgeneratoren)
♦ Alternatieve energie (wind, fotovoltaïsch) en gedistribueerde energie (vliegwiel, brandstofcel, microturbine)
♦ Elektrische voertuigen
♦ Inductieverwarming
♦ Industriële pompbesturing
♦ Medische stroomvoorziening (CT, MRI, röntgen)
♦ Stroomopwekking en -distributie
♦ Gepulseerde stroom
♦ Vervoer (aandrijving en hulpstroom voor spoorwegen, schepen)
♦ Ononderbreekbare voedingen (UPS)
♦ Lasposten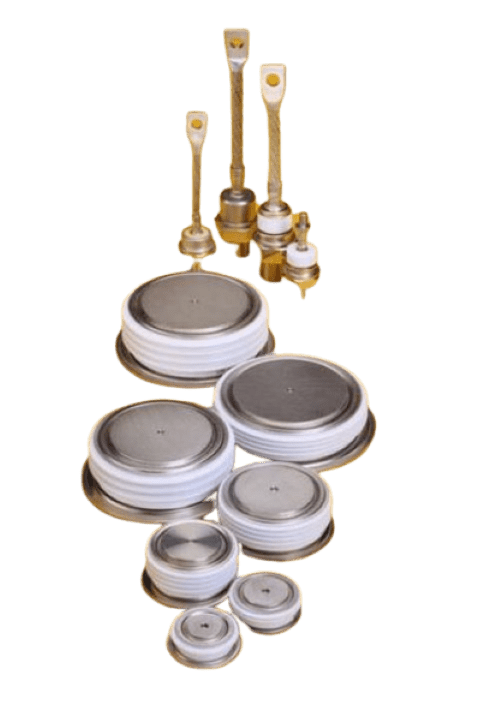 Diodes
♦ FAST RECOVERY DIODES
Series R502/503- R602/R603 – R622 – R702/R703 – R711 – R7S2 – R7G2
♦ STANDARD DIODES
Series R510/R511 – R600/R601 – R620 -R700/R701 – R720 – R7S0 – R820 – R9G0 – R9S0 -RA20 -RAS004 – RBK8 – RBS8 – RB20 – RCS8 – RDK8
♦ WELDING DIODES
Series R9XSMD – RAXMGC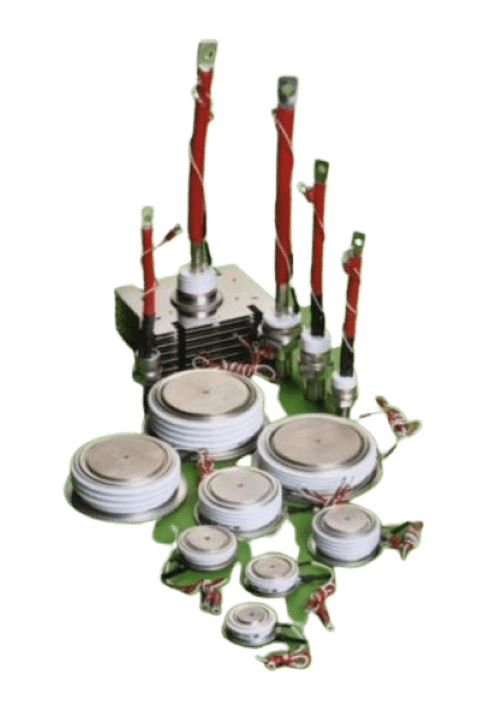 Thyristors
♦ FAST & INVERTER THYRISTORS
Series T507 – T607 -T627 – T707 – T7H6 – T727 – T7S7 – T72H – T7SH – T826 – T82F – T9GH – C458 – C712 – C 716 – C770
♦ PHASE CONTROL THYRISTORS
Series T500 – T510 -T600 – T610 – T620 – T700 – T720 – C430 – C431 – T7H8 – T7S0 – T8KC – T820 – C440- C441 – T9KC – T9K7 – C702 – T9G0 – C451 – C450 – T9S0 – TAKC – TA20 – TAS7 – TAS0 – TBKC – TBKD – TBS4 – TBS7 – TBK5- TBK7 – TBS7 – C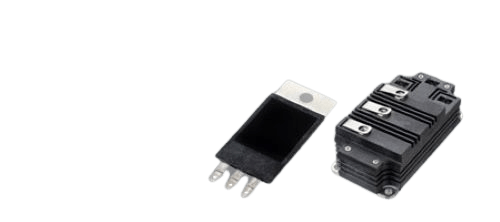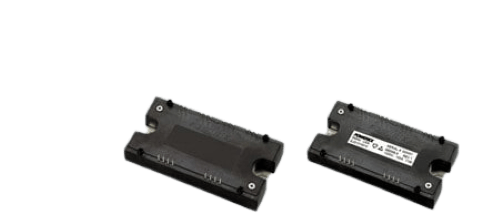 SiC Modules / IGBT/HVIGBT
♦ De Powerex IGBT/HVIGBT-reeks maakt gebruik van Carrier Stored Trench-Gate Bipolar Transistor (CSTBT)-technologie, die zorgt voor het verminderde vermogensverlies en de miniaturisatie die vereist zijn voor industriële toepassingen.
♦ Powerex HVIGBT's en HV-diodes zijn voorzien van sterk isolerende pakketten die een betere bescherming bieden door een grotere kruipruimte en speling voor vele veeleisende toepassingen, zoals middenspanningsaandrijvingen en hulptractieapplicaties.
♦ Full SIC & Hybrid SIC IGBT's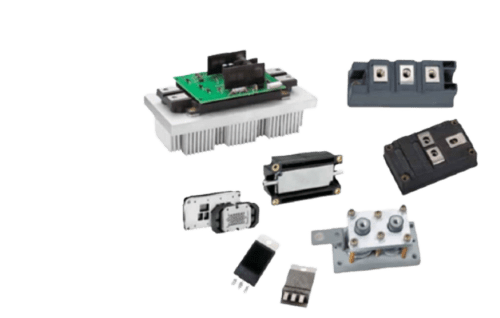 Klantspecifieke diodes en thyristoren
POWEREX aangepaste modules voldoen aan uw specifieke behoeften:
Door de reeks HVIGBT-modules van Mitsubishi aan te vullen.
(Mitsubishi chips anders geassocieerd).
♦ HVIGBT Line-up
♦ Military / Aero
♦ End of life oplossingen
In de overgrote meerderheid van de gevallen kunnen wij uw probleem van veroudering oplossen door onze standaardproducten mechanisch en elektrisch (indien nodig) aan te passen aan uw behoeften.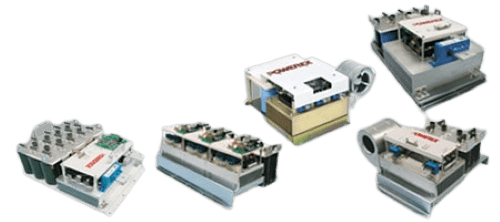 Assembleringen
Wij realiseren assemblages rond onze vermogenscomponenten.
Wij kunnen ook uw assemblages renoveren (vervanging van discrete componenten, reiniging van radiatoren...) om de levensduur van uw apparatuur aanzienlijk te verlengen.
Wij kunnen u een zeer hoge reactiviteit bieden tijdens speciale operaties voor renovaties die een zeer korte stilstandtijd vereisen.
♦ IGBT Assemblages
♦ POW-R-PAK™ IGBT Assembly
♦ Powerex Integrated Power Module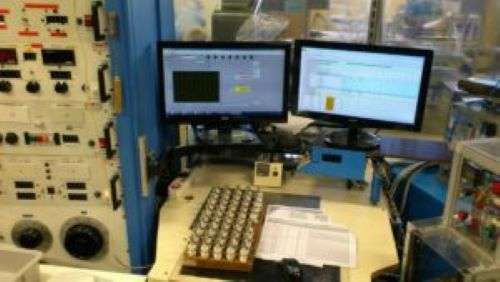 SERVICE
♦ Gespecialiseerde testbanken, met automatisering van de resultaten
♦ Testopstellingen voor statische of dynamische metingen.
♦ Pers voor het onder druk brengen van elementen
♦Gestandaardiseerde tests.
♦ Temperatuur tot 200°C.
Acquisitiesoftware voor statische metingen.
♦ Analyse en registratie van events.
♦ Genereren van rapporten.
Software voor het meten van opgeslagen belastingen.
♦ Analyse en registratie van events.
♦ Genereren van rapporten.
Hebt U een vraag of een specifiek project waarvoor U informatie wenst, vul dan onderstaand formulier in en wij nemen zo spoedig mogelijk contact met U op.
No products available yet
Stay tuned! More products will be shown here as they are added.