Master Chips' IoT & M2M products, an offering with both goods and services
Master Chips assists you in solving all your IoT or M2M issues.
In doing so, we can offer turnkey solutions as well as upgrading or adapting existing IoT infrastructures.
As a distributor of industrial electronics, the products Master Chips offers are of course extremely important, but due to the need of our clients to also be helped with additional support, Master Chips also offers consultancy services regarding IoT or M2M products. We can also offer a complete solution with accompanying platform.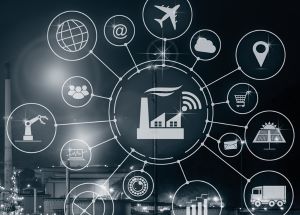 Complete IoT solution from A to Z

Master Chips supports your IoT project from start to finish and offers the perfect solution for all your issues.
All possible products for IoT

Master Chips' products support all common IoT protocols and can be freely deployed in any IoT solution.
All-round sandbox platform

Looking for a turnkey platform? Stop searching, Master Chips offers the perfect sandbox platform with all the features you are looking for.
Want to know how to get started?

Do you have questions about where to start with IoT? Do you want to explore the possibilities of IoT for your business? Master Cips provides the answers to your questions.
All kinds of M2M products for optimal use of your machinery
Master Chips has an extensive range of M2M products. This particularly with regard to communication and connectivity products. For example: HMIs, PLC, Routers & Gateways, RFID,....
Questions about our IoT or M2M products or solutions? Feel free to contact us!
IoT Solutions are for Master Chips complete IoT solutions from A to Z. This means that we assist and guide the customer from the beginning of the process until the end of the implementation. This can be done in different ways, and can always be determined by the client.
Based on our extensive knowledge and experience within the IoT sector, we assist our customers optimally to make the right choices. Often, this is still a fairly new field for our clients and this assistance can ensure that the time to market is thoroughly reduced, and their cost efficiency will be higher.
Master Chips has an extensive range of standard products (both hardware and software), but if necessary we also have a very extensive network and expertise to offer other solutions.
Together with our client, we always try to achieve the best possible solution.
A complete IoT solution includes the optimal elaboration of the case put on the table by the customer, the supply of the necessary hardware, the supply and setting up of a corresponding platform, the integration of the hardware on the platform, up to the effective installation of the hardware on site.
As a distributor of industrial electronics since 1984, products are obviously the main focus for Master Chips.
With a wide range of IoT products (sensors, routers, gateways,...) from a number of strategic partners, Master Chips has a solid base to work out many IoT projects without any problem.
However, are there other needs or do we not yet have a certain product in our range? Then of course we do what is necessary for our clients to still be able to offer the optimal solution. For this, we have an extensive network of partners and we continue to expand our market knowledge every day.
Master Chips has been working with numerous platform developers and/or integrators for many years. As a result, we have an extensive eco-system, and can also offer platforms for our IoT solutions that are extremely suitable for specific use cases.
Would you like to have more control over your platform, and program on it yourself? We also have a suitable platform for this, and can assist with training and support to familiarize customers with it.
From the demand from our customers for additional help in the IoT domain, we at Master Chips have seen that there are still many companies looking for help. As a result, we also want to share our knowledge with customers, and they don't have to keep purchasing products or services to do so.
If you are a company with questions about IoT or thinking about starting this in the future, please feel free to contact us to support you in this, and assist you in taking the first steps. Master Chips can also be of added value for already advanced customers within IoT. Feel free to contact us so we can convince you of our added value.
In addition to IoT products, Master Chips is also a distributor of Machine to Machine products. Here we have among others HMIs, PLCs, RFID solutions, Routers & Gateways,... in our range. Master Chips here mainly focuses on the communication and connectivity issues within this domain. this ranges from data collection, data visualization to sending data via all kinds of communication options.